Property #518
Romantic Studio-Loft - 1 BR, 1 Bath, Sleeps 2-4
Paris, France

General Description | Location Type | Sleeping Facilities | Baths | Kitchen/Dining |
Amenities | Parking Facilities | Pet Information | Rental Rates | Dates of Availability |
Contact Owner | Important Notice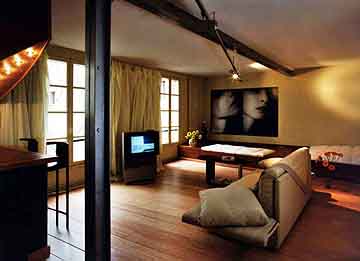 Description:
Just five minutes from the rail station, this apartment is in a building that dates to the beginning of the century. It has been recently decorated by a Parisian artist and offers all of the modern conveniences including a technologically outstanding shower, an electrical adjustable bed system, sofa bed, microwave, dishwasher, Bang & Olufson panoramic TV with build in VCR, and CD. It looks out on a little garden and is free from any street noise. As you stroll the surrounding area, you will find many restaurants, shops and craftsman nearby, and just two blocks away is a full-size swimming pool. Laundry can be picked up and delivered for about $5. Maid service is available. This is a non-smoking property. Children are negotiable. Most of all this is a very romantic studio-loft to appreciate at its best with your partner.
---
City location. Located in a lively neighborhood out of the tourist area, yet within a five minute walk of Montmartre and Sacre Coeur.
---
Sleeping Facilities:
Number that can sleep in the unit: 2-4
Number of bedrooms: 1
Number of king size beds: 1
Number of sleeper sofas: 1
Bed linens provided
Laundry can be picked up and delivered for about $5.
Maid service is available.
---
Number of bathrooms: 1
Number of showers: 1
Bath towels provided
---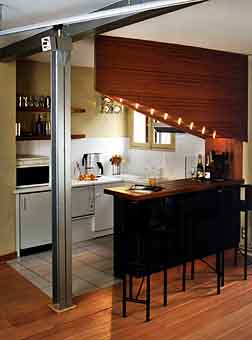 Kitchen/Dining Information:
Full kitchen
Refrigerator
Stove/oven
Dishwasher
Microwave oven
Kitchen linens/towels provided
---
Covered parking next to unit
---
Phone
Central air conditioning
Radio/alarm clock
TV connected to cable
VCR
Stereo radio
Stereo CD player
Stereo cassette player
Public pool
Iron and ironing board
---
Pets not allowed
---
Rental rates: $750-$900/week
Currency: US Dollar
Click here for a Currency Converter
---
Year round
---
Peter Bracke

Telephone: (32) 95217778

MONtmartre@skynet.be
---
RentMyCondo.com and the owner of the property have made an attempt to be accurate in the above information. However neither RentMyCondo.com or the property owner guarantees the accuracy of the information. It is the renter's responsibility to verify all information with the owner before entering into a rental agreement.
RentMyCondo.com
P.O. Box 195
Middlebranch, Ohio 44652
[ Home Page ] [ Search For Property ] [ List Your Property ]


Copyright 2000 RentMyCondo.com, All Rights Reserved