Property #520
Posh and Modern Home - 1.5 Baths, Sleeps 4
Bangalore, India

General Description | Location Type | Sleeping Facilities | Baths | Other Living Space | Kitchen/Dining | Amenities | Parking Facilities | Pet Information | Activities/Entertainment | Other Information | Rental Rates | Dates of Availability | Contact Owner | Important Notice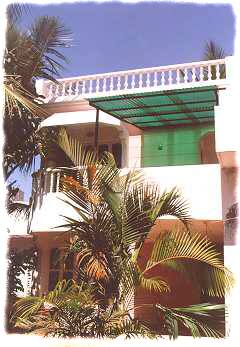 Description:
Posh, modern, fully furnished, modern, well located, secure, sleeps four, with garden, parking, servant, close to shopping and central locations for visitors/business at Bangalore, India, Silicon Valley of India, software center, ideal for family of four/two/single, for entertainment, meeting place. Comes with kitchen facility, telephone, servant, parking, garden.
---
City location
Bangalore, India: Silicon Valley of India, Software center, Garden city of India, close to shopping and central locations, secure, posh, well to do neighborhood.
---
Number that can sleep in the unit: 4
Number of single beds: 2
Number of double beds: 1
Bed linens provided
Other Information about the sleeping facilities: 2 single beds (can be made to one double bed) in the ground floor with a modern toilet(powder room)and living room furniture seats 8 people, a large bay window, and a closet.
Upstairs: one double bed, with a kitchen and a dining table, and a large French door plus a balcony, and a full shower bath.
---
Baths:
Number of bathrooms: 1.5
Number of showers: 1
Bath towels provided
Other Information about the bath facilities: modern shower bathroom, nicely tiled, toilet, with hot and cold water 24 hours.
---
Full kitchen
Dinette
Garbage disposal
Refrigerator Stove/oven
Microwave oven
Cooking-eating utensils
Kitchen linens/towels provided
Other Information about the kitchen/dining facilities: Kitchen in second floor: refrigerator, L shaped counter, microwave oven gas stove, electric hot stove, rice cooker, pressure cooker, coffee maker, dinnerware for six, utensils for cooking, fully furnished for 4 people.
---
Other Living Space Information:
Living room
Screened porch
Unscreened deck
Screened balcony
Other information about the other living space: porch: rattan furniture for 4 people, large 20x50ft flat roof for party or sitout.
---
Outside parking next to unit.
Other information about the parking facilities: 2 cars parking inside the premises, secure by the gate, watchman, gardener/servant.
---
Amenities:
Phone
Radio/alarm clock
---
Pets allowed
---
Biking
Boat rentals
Grocery stores
Movie theater(s)
Museum(s)
Night life
Restaurants
Shopping
---
For additional photos and sketch of property see www.blast.net/sekhar/india.html
---
$1000/month includes utilities, servant, parking, garden.
Suggested tips for servant $1/day while leaving.
Servant will help in shopping, grocery, laundry, taxi, cleaning,
washing, baby sitting, and security.
Currency: US Dollar
Click here for a Currency Converter
---
February 15, l999 - June 15, l999
Sept.1999 - June 2000
---
C. Sekhar

Telephone: (908) 281-2281

E-mail: REDwine62@hotmail.com
---
Important:
RentMyCondo.com and the owner of the property have made an attempt to be accurate in the above information. However neither RentMyCondo.com or the property owner guarantees the accuracy of the information. It is the renter's responsibility to verify all information with the owner before entering into a rental agreement.
RentMyCondo.com
P.O. Box 195
Middlebranch, Ohio 44652
[ Home Page ] [ Search For Property ] [ List Your Property ]







Copyright 2000 RentMyCondo.com, All Rights Reserved