Property #542
Luxury Retreat - 3 BR, 2.5 Baths, Sleeps up to 6
St. Thomas, U.S. Virgin Islands
General Description | Location Type | Sleeping Facilities | Baths | Other Living Space | Kitchen/Dining | Amenities | Pet Information | Other Information | Rental Rates | Dates of Availability | Contact Owner | Important Notice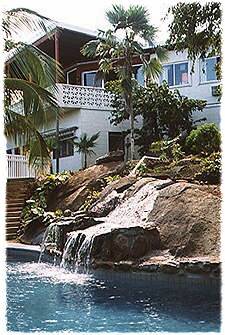 Description:
We welcome you to our sanctuary at Proud Rock . Many have come before to this tropical retreat to relax and rejuvenate in the natural beauty of this secluded retreat. The sanctuary at Proud Rock features a tropical pool, waterfalls, cool jungle Jacuzzi and so much more.
---
Perched six hundred feet over the North Atlantic shore with views of two pristine islands, this totally secluded haven is located at the end of a private natural road.
---
3 Bedrooms
2 queen beds
2 twin beds
---
Baths:
2.5 Baths
---
Large Kitchen and Dining Area
---
Other Living Space Information:
The living room faces the ocean with sixty feet of sliding glass doors opening on to a porch complete with Japanese ceramic charcoal grille, wrought iron dining furniture, and a lazy hammock for two. The view from the living room and adjoining porch is breathtaking where Inner and Outer Brass islands meet the horizon, and the Atlantic Ocean spreads in both directions.
There is a den also.
---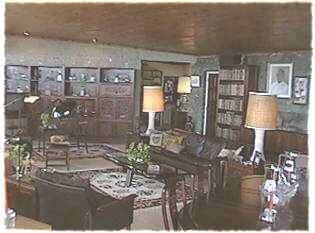 Amenities:
There is a library of over two thousand books for your reading pleasure, housed in rosewood bookshelves throughout the villa.
Enjoy a scenic view of the ocean while you swim in the large blue-gray
bottomed tropical pool with a waterfall built around a fifty-foot boulder. Nestled among the boulders and lush gardens is a secluded cool jungle Jacuzzi, also with a cascading waterfall.
The main house features ceramic tile and teak wood floors and cedar tongue-and-groove ceilings, and rosewood paneling and cabinetry.
The water, the plants, the rocks and our home - we trust that you will find everything you need for your vacation pleasures and desires.
It is not unusual to be visited by native wild parrots, Banana Quits and Humming Birds darting among the bountiful fruit trees on the property. Avocado, grafted and native mango, papaya, coconut, banana and sour sap - all for your fresh picking and eating enjoyment.
---
No pets allowed.
---
No smoking in the interior of the villa.
For other information visit our other web site at www.atlantisrising-usvi.com
---
HIGH SEASON from Dec.15 - April 17
1 TO 5 WEEK STAY Main House
$2600/week 1-4 guests
$2900/week 5 and above guests

LOW SEASON from April 18 - Dec.14
1 TO 5 WEEK STAY Main House
$1800/week 1-4 guests
$2100/week 5 and above guests
Damage deposits: on the Main House is $2000.00, which can be authorized on any of the above credit cards. This will be an Authorization only and will not be charged against your account unless there are unpaid damages or charges after your departure. If deposit is made in cash or check form, it is fully refundable to you within 30 days of your departure, provided there is no breakage, damage, missing items, long distance calls charged to the house telephone and no other charges incurred before or after your stay, still outstanding. All normal utilities (except for your long distance phone calls) are included in your rental price. Water is at a premium here, so you will have to watch that you only use what you need.
Payments and Cancellations: Once you have phoned in your reservation you have a TWO WEEK grace period to send your deposit in to us-after two weeks, your "hold" on the property will be subject to cancellation without further notice. The initial deposit required is ONE HALF the RENT to confirm and guarantee your reservation. The balance due of rent, plus hotel tax and your damage deposit, are due at least 45 days prior to your arrival. Your first payment (deposit) will always be applied toward the total rent.
Cancellations will be honored if made outside 45 days prior to your arrival, less a 20 % service charge in some cases. Cancellations made within 45 days of your arrival may be subject to forfeiture of 100% of your total rent, unless we are able to rebook your rental dates. Naturally we will always do our utmost to help fill dates which must be canceled for whatever reason, so that a full or partial refund can be made to you without loss to The Sanctuary. Refund arrangements can largely depend on the amount of notice given to us of the cancellation, and on the time of year.
We may be able to reschedule your visit to another time slot in the future. For peace of mind we recommend cancellation insurance available through your agent. No refunds may be given for early departure, unless there is a problem that can not be cured within 24 hours or causes our guests extreme undue discomfort or serious inconvenience.
All rentals under 90 days in the USVI are subject to a 8% to 10% USVI Government Hotel Tax.
No smoking in the interior of the villa. No pets.
We gladly accept Cashiers checks Money orders, Master Card Visa, American Express and Discover.
Click here for a Currency Converter
---
Dates of Availability:
You can lease this villa by the week, month or any available time that fits your vacation schedule.
---
Lance and Pat Schenker
8736 NW 136 Ave. Rd.
Ocala, Florida 34482 USA

Telephone: (352) 629-4315 or (800) 351-3630

E-Mail: CBIusa@aol.com
---
RentMyCondo.com and the owner of the property have made an attempt to be accurate in the above information. However neither RentMyCondo.com or the property owner guarantees the accuracy of the information. It is the renter's responsibility to verify all information with the owner before entering into a rental agreement.
RentMyCondo.com
P.O. Box 195
Middlebranch, Ohio 44652
[ Home Page ] [ Search For Property ] [ List Your Property ]


Copyright 2000 RentMyCondo.com, All Rights Reserved