Property #7112
Laguna Vista, Texas
General Description | Location Type | Sleeping Facilities | Baths | Other Living Space | Kitchen/Dining | Amenities | Parking Facilities | Pet Information | Activities/Entertainment | Rental Rates | Dates of Availability | Contact Owner | Important Notice
Description:
Enjoy quiet leisure living on the tranquil waters of the Laguna Madre. Or, cross the bay to South Padre Island and party on the beach during spring break. The condo is on the ground level, completely furnished and all utilities and amenities paid.
Only 15 minutes across the bay from the popular Texas vacation beaches of South Padre Island. Wade into the bay right on the property and catch dinner or just a tan; or, take your boat into the bay from our private docks. If you prefer golf, the South Padre Golf course is just down the street.
---
Location Type:
1114 sq. ft. Condo near ocean
---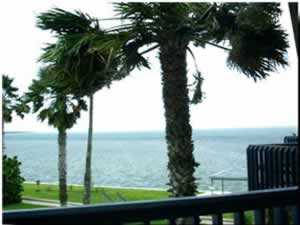 Sleeping Facilities:

Number that can sleep in the unit: 4

Number of bedrooms: 2

Number of king size beds: 1

Number of double beds: 1

Bed linens provided: yes


---
Baths:
Number of bathrooms: 2

Number of tubs: 2

Number of showers: 2

Bath towels provided: yes


---
Kitchen/Dining Information:
Full kitchen: yes
Dinette: yes
Garbage disposal: yes
Refrigerator: yes
Outdoor gas grill: yes
Stove/oven: yes
Dishwasher: yes
Microwave oven: yes
Cooking-eating utensils: yes
Kitchen linens/towels provided: yes

---
Other Living Space Information:
Living room: yes
Unscreened patio: yes
Other information about the other living space: Also has storage room


---
Parking:
Outside parking next to unit: yes


---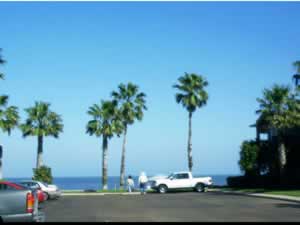 Amenities:

Central air conditioning: yes
Private pool: yes
Personal clothes washer: yes
Personal clothes dryer: yes
Beach front property: yes
Other amenities not listed above: Phone - Unlimited domestic long distance (paid)
Cable - Premium movie channels included (paid)
High speed internet (paid)
Utilities (paid)
HD Plasma TV & entertainment center
Boat docks


---
Pet Information:
Pets not allowed.
---
Activities/Entertainment:
Beach
Biking
Boat docking
Fishing
Golf
Grocery stores
Guided tours
Hiking
Movie theater(s)
Horseback riding



Night life
Restaurants
Shopping
Skin diving
Snorkeling
Surfing
Swimming
Water skiing
Wind surfing


Other activities/entertainment: See South Padre Island websites:
sopadre.com
spadre.com
spionline.com

---
Rental Rates:

Minimum 6 months $1,400./month + deposit



Currency: US Dollar

Click here for a Currency Converter
---
Dates of Availability:
Dates of availability: April - Dec.
---
Contact Owner:
Lloyd Peterson

Telephone:(715) 235-1259

---
Important Notice:
RentMyCondo.com and the owner of the property have made an attempt to be accurate in the above information. However neither RentMyCondo.com or the property owner guarantees the accuracy of the information. It is the renter's responsibility to verify all information with the owner before entering into a rental agreement.

RentMyCondo.com
P.O. Box 195
Middlebranch, Ohio 44652
[ Home Page ] [ Search For Property ] [ List Your Property ]
Copyright 2006 RentMyCondo.com, All Rights Reserved