Property #7115
Pompano Beach, Florida
General Description | Location Type | Sleeping Facilities | Baths | Other Living Space | Kitchen/Dining | Amenities | Parking Facilities | Pet Information | Activities/Entertainment | Rental Rates | Dates of Availability | Contact Owner | Important Notice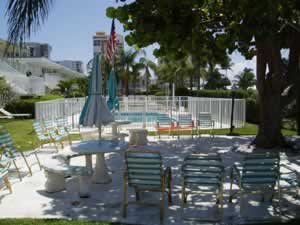 Description:
Walk to the beach in the morning, looking for sea shells, golf the afternoon away or lazily read a book by the heated pool.
---
Location Type:
Only 3 blocks to beach and a view of the intra coastal waterway from your back balcony.
---
Sleeping Facilities:

Number that can sleep in the unit: 4

Number of bedrooms: 2

Number of queen size beds: 1

Number of single beds: 2

Number of sleeper sofas: 1

Bed linens provided: yes


---
Baths:
Number of bathrooms: 1

Number of tubs: 1

Number of showers: 1

Bath towels provided: yes


---
Kitchen/Dining Information:
Full kitchen: yes

Dining room: yes

Refrigerator: yes

Outdoor gas grill: yes

Stove/oven: yes

Dishwasher: yes

Microwave oven: yes

Cooking-eating utensils: yes

Kitchen linens/towels provided: yes
---
Other Living Space Information:
Living room: yes

Unscreened patio: yes

Unscreened balcony: yes


---
Parking:
Outside parking next to unit
---
Amenities:

Window air conditioning: yes

Radio/alarm clock: yes

TV connected to cable: yes

VCR: yes

Stereo radio: yes

Stereo CD player: yes

Public heated pool: yes

Beach - within walking distance: yes

Public clothes washer: yes

Public clothes dryer: yes

Iron and ironing board: yes


---
Pet Information:
Pets not allowed.
---
Smoking:
Smoking is not permitted
---
Activities/Entertainment:
Beach: yes
Biking: yes
Boat rentals: yes
Fishing: yes
Golf: yes
Grocery stores: yes
Movie theater(s): yes
Night life: yes
Restaurants: yes



Restaurants: yes
Shuffleboard: yes
Snorkeling: yes
Surfing: yes
Swimming: yes
Tennis: yes
Video rentals: yes
Water skiing: yes
Wind surfing: yes




Other activities/entertainment:

We have a real grass putting green right outside your front balcony. Also, watch the boats go by from your back balcony in the evening or catch the Easterly breeze from your front balcony.
---
Rental Rates:

Rental rates:
$2500.00 per month



Currency: US Dollar

Click here for a Currency Converter
---
Dates of Availability:
Dates of availability: January thru March, possibly more
---
Contact Owner:
Richard Rosa

Telephone:: (954) 253-1142


E-Mail:emmelbeach@bellsouth.net

---
Important Notice:
RentMyCondo.com and the owner of the property have made an attempt to be accurate in the above information. However neither RentMyCondo.com or the property owner guarantees the accuracy of the information. It is the renter's responsibility to verify all information with the owner before entering into a rental agreement.

RentMyCondo.com
P.O. Box 195
Middlebranch, Ohio 44652
[ Home Page ] [ Search For Property ] [ List Your Property ]
Copyright 2007 RentMyCondo.com, All Rights Reserved