Property #7125
Destin, Florida
General Description | Location Type | Sleeping Facilities | Baths | Other Living Space | Kitchen/Dining | Amenities | Parking Facilities | Pet Information | Activities/Entertainment | Rental Rates | Dates of Availability | Contact Owner | Important Notice
Description:

Ideal beach vacation rental for families with kids because you fall out of bed onto the beach. Unbeatable romantic master bedroom for mom and dad, upstairs. Fantastic kitchen and outdoor grill if you don't want restaurants every night. Right in Destin, so there are a million things to do if the weather acts up. Great locations for golf, fishing and shopping. Within driving distance of 10 states, so you can bring your own car. Fly to Oklaloosa airport on Continental Airlines and rent a car.

Right on the beach. No road between balcony and sand. Sun comes up out of the water and sets into the water.
---
Sleeping Facilities:

Number that can sleep in the unit: 6
Number of bedrooms: 2
Number of king size beds: 2
Number of sleeper sofas: 1
Bed linens provided:

Other Information about the sleeping facilities: An oversized chair has a pull-out single bed, bringing total to 7.
---
Baths:
Number of bathrooms: 2
Number of tubs: 1
Number of tubs with Jacuzzi/whirlpool: 1
Number of showers: 2
Bath towels provided:

---
Kitchen/Dining Information:
Full kitchen:
Dinette:
Garbage disposal:
Refrigerator:
Outdoor gas grill:
Stove/oven:
Dishwasher:
Microwave oven:
Cooking-eating utensils:
Kitchen linens/towels provided:

Other Information about the kitchen/dining facilities: Kitchen has granite counter tops, solid wood cabinets and stainless steel appliances.
---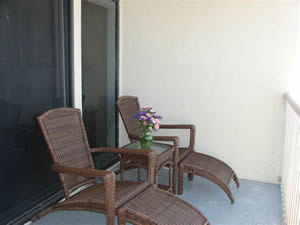 Other Living Space Information:
Family room:
Vaulted ceilings:
Unscreened balcony:

Other information about the other living space: Two stories. Upper level has master bedroom/bath with balcony and vaulted ceilings overlooking white sand and emerald green water. Lower level has family room overlooking the same. Footsteps from the beach, makes it great for families with kids and easy to run back and forth from the beach.
---
Parking:
Other information about the parking facilities: Covered parking under the building. One spot for sure, maybe room for more.
---
Amenities:
Phone:
Central air conditioning:
Radio/alarm clock:
TV connected to cable:
VCR:
Public hot tub/Jacuzzi:
Public pool:
Personal clothes washer:
Personal clothes dryer:
Beach front property:
Beach - within walking distance:

Other amenities not listed above: Walking distance to restaurants, Junes Dunes park and Henderson State Park.
---
Pet Information:
Pets allowed:

Other information about pets: No dogs on beach.
---
Smoking:
Smoking is not permitted
---
Activities/Entertainment:
Beach:
Biking:
Boat rentals:
Fishing:
Golf:
Golf - miniature:
Grocery stores:
Movie theater(s):



Night life:
Restaurants:
Shopping:
Snorkeling:
Swimming:
Tennis:
Video rentals:
Water skiing:


Other activities/entertainment: Destin is famous for sweaky white powder sand, emerald green water, fishing, golf, restaurants and shopping.


Other Information about the property: Owned by brother of ESPN Baseball Tonight TV analyst Tim Kurkjian. Rent this unit and, if you request, I will send you a signed copy of his latest book "Is This A Great Game or What". You have to ask me.
---
Rental Rates:
Summer rate $1981/week, with peak rate of $2121/week for late June to mid July. Fall rate is $1148/week, spring rate is $1598/week and winter rate is only $1519/month for snowbirds.
Currency: US Dollar
Click here for a Currency Converter
---
Contact Owner:
Andy Kurkjian

Telephone: (281) - 797-9389


E-Mail:andykurkjian@comcast.net

---
Important Notice:
RentMyCondo.com and the owner of the property have made an attempt to be accurate in the above information. However neither RentMyCondo.com or the property owner guarantees the accuracy of the information. It is the renter's responsibility to verify all information with the owner before entering into a rental agreement.

RentMyCondo.com
P.O. Box 195
Middlebranch, Ohio 44652
[ Home Page ] [ Search For Property ] [ List Your Property ]
Copyright 2009 RentMyCondo.com, All Rights Reserved