Property #7139
Galena, Illinois
General Description | Location Type | Sleeping Facilities | Baths | Other Living Space | Kitchen/Dining | Amenities | Parking Facilities | Pet Information | Activities/Entertainment | Rental Rates | Dates of Availability | Contact Owner | Important Notice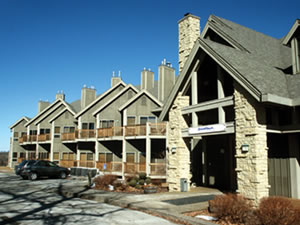 Description:

Great get away for a week with plenty to keep you busy. Enjoy this relaxing condo with lots to exlore during the day. Tour the beautifully restored historic buildings of downtown Galena, including Belvedere Mansion, Dowling House and the Ulyesses S. Grant Home. At Chestnut Mountain Resort, ski in the winter or alpine slide in the summer, all the way to the Mississippi River; horseback-ride year-round at the Shenadoah Riding Center; hike and bike at Apple River Canyon State Park.
---
Sleeping Facilities:

Number that can sleep in the unit: 2
Number of bedrooms: 1
Other Information about the sleeping facilities: One Bedroom: King in master, queen murphy bed in living area.
---
Baths:
Number of bathrooms: 2
Other Information about the bath facilities: Jetted Tub in bathroom.
---
Kitchen/Dining Information:
Garbage disposal
Refrigerator
Stove/oven
Cooking-eating utensils

---
Other Living Space Information:
Living room

---
Parking:
Outside parking next to unit

---
Amenities:
Unscreened deck
Other amenities not listed above: Indoor pool, spa and sauna, family arcade area, exercise room, barbacue area and video rentals
---
Pet Information:
Pets not allowed
---
Smoking:
Smoking is not permitted
---
Activities/Entertainment:
Biking
Golf
Hiking



Skiing - downhill
Swimming
Video rentals
Alpine Slide for summer


Other Information about the property: One-time mining boomtown turned tourist destination for golf and histroical site-seeing. Spend the days strolling the streets lined with perfectly preserved mid-nineteenth century homes and buildings or golfing at some of Galena's world-class courses.

---
Rental Rates:
$200.00/night
$1300.00/week
Currency: US Dollar
Click here for a Currency Converter
---
Dates of Availability:
July 24, 2011 to July 31, 2011
---
Contact Owner:
Jessie Maupin

Telephone: (208) - 624-7272


E-Mail:jessie@qualitywoodworking.net

---
Important Notice:
RentMyCondo.com and the owner of the property have made an attempt to be accurate in the above information. However neither RentMyCondo.com or the property owner guarantees the accuracy of the information. It is the renter's responsibility to verify all information with the owner before entering into a rental agreement.

RentMyCondo.com
P.O. Box 195
Middlebranch, Ohio 44652
[ Home Page ] [ Search For Property ] [ List Your Property ]
Copyright 2011 RentMyCondo.com, All Rights Reserved