Property #7142
Daytona Beach, Florida
General Description | Location Type | Sleeping Facilities | Baths | Other Living Space | Kitchen/Dining | Amenities | Parking Facilities | Pet Information | Activities/Entertainment | Rental Rates | Dates of Availability | Contact Owner | Important Notice
Description:

Oceanfront with a balcony view straight at the ocean. The ocean can be seen from the time you open the door, from the kitchen, and from the 2 front bedrooms. This condo is well maintained and secure with a manager and maintenance crew on duty Monday through Friday.
---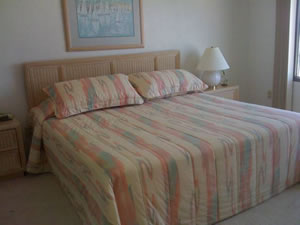 Sleeping Facilities:

Number that can sleep in the unit: 6
Number of bedrooms: 3
Number of single beds: 2
Number of king size beds: 2
Bed linens provided

---
Baths:
Number of bathrooms: 3
Number of tubs: 1
Number of showers: 2
Bath towels provided

---
Kitchen/Dining Information:
Full kitchen
Dining room
Garbage disposal
Refrigerator
Stove/oven
Outdoor charcoal grill
Dishwasher
Microwave oven
Cooking-eating utensils
Kitchen linens/towels provided

Other Information about the kitchen/dining facilities: It's a dining room/living room combination. You can see the layout in one of the pictures.
---
Other Living Space Information:
Living room
Unscreened balcony

---
Parking:
Other information about the parking facilities: Underground parking plus additional parking at the front entrance.

---
Amenities:
Phone
Central air conditioning
Radio/alarm clock
TV connected to cable
Public hot tub/Jacuzzi
Public sauna
Public pool
Public heated pool
Public exercise room/facilities
Personal clothes washer
Personal clothes dryer
Beach front property
Iron and ironing board

Other amenities not listed above: Game Room is on the bottom floor where the parking garage is and the Club Room is on the top floor where the Penthouses are.
---
Pet Information:
Pets not allowed
---
Smoking:
Smoking is not permitted
---
Activities/Entertainment:
---
Rental Rates:
$2,400/2 weeks, $2,800/month (January, February, March, April, June, July, August)
$1,700/2 weeks, $2,100 (May, September, October, November, December)
Currency: US Dollar
Click here for a Currency Converter
---
Dates of Availability:
September-February and April 1-June 15
---
Contact Owner:
Nancy Lee Pitts

Telephone: (615) - 665-0118


E-Mail:pittsn@hardingacademy.us

---
Important Notice:
RentMyCondo.com and the owner of the property have made an attempt to be accurate in the above information. However neither RentMyCondo.com or the property owner guarantees the accuracy of the information. It is the renter's responsibility to verify all information with the owner before entering into a rental agreement.

RentMyCondo.com
P.O. Box 195
Middlebranch, Ohio 44652
[ Home Page ] [ Search For Property ] [ List Your Property ]
Copyright 2011 RentMyCondo.com, All Rights Reserved